Ian Cromwell, Stuart J Peacock and Craig Mitton, BMC Health Services Research, 2015.
Health care decision making requires making resource allocation decisions among programs, services,
and technologies that all compete for a finite resource pool. Methods of priority setting that use explicitly defined criteria can aid health care decision makers in arriving at funding decisions in a transparent and systematic way. The purpose of this paper is to review the published literature and examine the use of criteria-based methods in 'real-world' health care allocation decisions.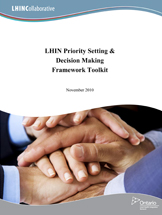 Craig Mitton and Jennifer Gibson were commissioned by LHIN Collaborative (LHINC) to develop a priority setting and decision making framework that could be applied throughout the LHIN network while ensuring flexibility and adaptability to address local concerns.